On The Water with Canyon Reels, Livingston Lures, Rat-L-Trap Lures, KastKing Rods and Carrot Stix Rods for...
LARGEMOUTH BASS, SMALLMOUTH BASS, NORTHERN PIKE
SIT BACK AND RELAX AND ENJOY SOME REALLY GOOD VIDEO OF OUR TRIP WHERE WE FIELD TRIALED THESE SUPER PRODUCTS

theBASSguys is a participant in the Amazon Services LLC Associates Program, an affiliate advertising program designed to provide a means for sites to earn advertising fees by advertising and linking to Amazon
LOCATION: Gananoque Lake, Ontario, Canada
Air Temp: High 60's to mid 70's
Weather: Overcast with sun, wind, and periods of heavy to light rain.
Water Temp: average 73.0
Fish Targeted: Largemouth Bass, Smallmouth Bass, Northern Pike.
Water Quality: cloudy with sections of crystal clear water.
Lures: No live bait was used, all fish were caught and released on artificial baits / circle hooks.
Rods: 6 /12 to 7.2 foot medium light spinning / baitcaster rods.
Reels: Spinner and Baitcaster
Lures: Livingston Lures, Rat-L-Trap Lures, Soft plastic Stick Baits / Worms, Booyah Spinner Baits
Line: 8 lb to 15 lb KastKing Copolymer.
We visit one of our favorite northeast lakes again to field trial some new lures we received from Livingston and Rat-L-Trap lures. We also brought along some super rods from Carrotstix and KastKing that we have been using for some time now. These rods have held up beautifully on both fresh and saltwater thus far and we aim to use them for the rest of the 2016 season to see how well they continue to perform. We coupled the spinning rods with a reel from Canyon Reels, the Backwater 2000. This reel has also been used by us for awhile now in both fresh and saltwater and has held up extremely well!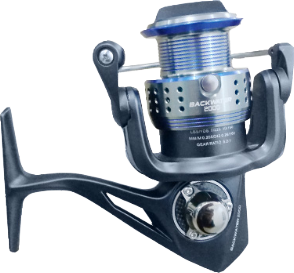 The first piece of gear we were anxious to try out on this body of water and the fish we were targeting was the CANYON REELS BACKWATER 2000. We have used this spinning reel many times so far and it has perfomed flawlessly every time. It's light, and the drag system is outstanding... PLUS...it can be used safely in saltwater as well. The 5.2:1 gear ratio and drag easily handled any size fish we were catcing on this trip. If you are looking to purchase a TOP quality spinning reel at a price YOU WILL NOT believe then make sure you visit their website. A link is shown at the bottom of this page.

Our next piece of gear used on this trip was the CARROTSTIX spinner and baitcaster rods we received. We have been using these rods all season as well and wanted to put them to the test again on some heavy bass and pike action. These rods are "extremely light" and come with the new split grip design in both spinning and baitcaster versions. We own some of the other BIG name /expensive rods on the market and the CarrotStix rods are equal to and BETTER in performance then ALL of them!! And the PRICE point on these high end rods are well BELOW what you would expect to pay so do yourself a favor and check CarrotStix out before going to those other guys.

KASTKING, a division of ePoseidon, provided us with a selection of their Perigee spinning and baitcaster rods, and some spools of ltheir Copolymer line. We were looking for gear in the moderate price range and found them with KASTKING. They offer a quality and performance line of gear that you would be hard pressed to find anywhere else. The rods are super sensitive, well constructed, and come with the split grip designs that we prefer. We have used them in the upper and lower bays of New York harbor for fluke and blue fish and they handled these fish with NO problems. The real jewel we found was their Copolymer line... we experienced NO slinky or line twist issues so far with this line and that was a BIG plus for us. And how does $7.99 for 12LB, 330 yds of line sound to you!

As for lures we started with a selection of LIVINGSTON LURES as they are well suited for the conditions we were fishing under. One day was chilly and windy, the next was hot and windy. But these hightec little jewels produced some outstanding catches of large and smallmouth bass, and northern pike action ALL week long. Especially in cloudy water depths of 3 to 8 ft. We will be using these lures all season and especially in our upcoming September trip to Canada.

We don't go anywhere without a selection of RAT-L-TRAPlures and this trip was no exception. We caught both largemouth, smallmouth bass and northern pike with them. In the middle of the day when the bite slowed down we sent them off the stern and trolled very slowy between spots we wanted to go to. On practically evey troll we picked up a PIKE!. Trolling is NOT our thing but when all else fails we will resort to it... why waste the chance to catch a fish moving from one spot to another!

We also used a variety of BOOYAH SPINNER BAITS too ... their white and dayglo green/yellow 1/2oz skirted willow blades generated regular hits for all of us on the days when the sun came through. On the cloudy and overcast days we switched to their black skirted 1/2oz colorado blades as our go to spinner. These baits were always used in water depths of 3 to 5 ft with heavy weeds. The willow blades cut through this stuff with minimal hangups so don't be afraid of pulling them through cover like this. Never use a colorado blade in this kind of cover.

Let it be said that theBASSguys just love to use SOFT PLASTICS on every lake, reservoir, river, stream we visit and this lake was no exception. We fished stick baits in the 4" to 6" size all week texas rigged style and caught lots of fish. However, one day on the same 12lb line and a worm texas rigged, the bite did not happen?? We discovered that the fish preferred this bait presented to them wacky style on light 8lb test line and a smaller hook. So, if soft plastics fished texas rigged, or wacky rigged, on heavy line is not producing hits for you... switch to lighter stuff.

Visit Canyon Reels Vist KastKing Rods & Reels Visit Livingston Lures VisitRat-L-Trap Lures