WE WORK THE CARROT STIX, KASTKING SPINNING & BAITCASTER RODS, A NEW FRESHWATER REEL FROM CANYON REELS, STEELSHAD LURES, AND HIGH ROLLER LURES FOR LARGEMOUTH, SMALLMOUTH BASS AND PIKE
Click the image for an enlarged view
Grap a cup of coffee, sit back and relax, and watch some great video of the bass action we got on this trip. If you make a purchase or visit our friends at Canyon Reels, SteelShad, High Roller Lures or Carrot Stix and KastKing Rods, make sure you tell them theBASSguys sent you !!
Fish Targeted: Largemouth Bass, Smallmouth Bass, Northern Pike
Water Quality: Clear
Lures: No live bait was used, all fish were caught and released on artificial baits.
Rods: Spinning, & medium fast tip Baitcaster rods.
Reels: Spinning Reels, Baitcasters
Line: 8 lb mono, 12 lb braid, 10 lb Fluro leader line
Boats: 2008 16ft Lund and 2015 Lowe deep V hulls
Engines: Evinrude ETec and Mercury 4 stroke

theBASSguys bring our tried and true rods from Carrot Stix and KastKing again for some opening day BASS and Pike action fishing on Gananoque lake. The third Saturday in June is the start of BASS fishing on this lake and we were anxious to get out on the water with NEW baits we received from our friends at High Roller Lures and SteelShad Lures. And a brand NEW baitcaster reel from Canyon Reels!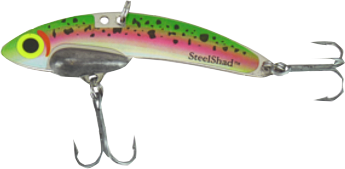 Over the next five days the STEELSHAD LURE produced some "super sized" Pike and Bass action for us day in, and day out, every day! No matter where we moved on the lake we were greeted with some of the biggest Bass and Pike we have caught here. And we have been coming to this lake for many years. We are not saying this is all due to the SteelShad Lure we used this week but we could not help feeling it had a lot to do with the action we experienced. The Pike and Bass just hammered this bait!!. We think the lures distinctive wobble action created water vibration that these fish couldn't resist.

Another new lure we used on this trip was from our friends at High Roller Lures. These are gorgeous handmade wood lures that we received late in the season last year for both fresh and saltwater and we were anxious to put them to work on this trip... and boy did we work them! The bass exploded on these lures and so did some Pike! The craftmanship of these lures is totally impressive... you need to check them out because they will catch fish that the plastic variety won't!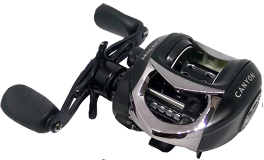 Canyon Reels is world famous for their high quality saltwater reels and they are now bringing their expertise and quality craftmanship into the freshwater market. The new CANYON REELS CR10 Pro Lockdown is their latest reel introduced to the freshwater world and it worked flawlessly for us the entire trip! We worked this reel really hard to determine its endurance and ability to help us catch some really nice big fish. The drag system and other high end components was smooth and reliable... even in days where we had to deal with constant heavy downpours of rain and wind.
Here is some specs on this reel:
Rigid die-cast aluminum alloy body & sideplates
CNC-cut aluminum handle + Ergonomic knob
Bearings: 9BB +1RB, all stainless steel
10 grades of multistage magnetic brake
Quick set aluminum spool and sideplate
Strong, wearproof all bronze drive & pinion gear
Holds 120 yards of 10 lb mono
Maximum drag force: 20 lbs
Gear ratio of 6.3:1
41 inches per crank
Extra power single handle
Available right or left handed
Oh, before we foget!! If you order one of these from Canyon Reels just use the code BASSGUYS at check out and you will get a $30 DOLLAR DISCOUNT off the retail price which is currently $120 bucks! This discount will also work for the spinning reels we used and featured on our previous trips as well... the Backwater 2000, and the DJR3500!